1
« on: July 23, 2015, 10:27:50 PM »
I've been working a lot with assemblers recently, just love the way how they work. So, I decided to write a MIPS Assembler myself and put in some cool features, such like upper and lower half recognition, variables/defines, etc. Basically this is a MIPS Assembler which I made for another community which still profits from it. It supports all MIPS III opcodes, supports pseudo-instructions (BGT (Greater Than), BLT (Lesser Than), BGE (Greater or Equal To), BLE (Less or Equal To, and a few more).
http://forum.pj64-emu.com/showthread.php?t=4770
As an example, I written a small ASM code for one of my favorite Mario games: Super Mario 64. The Nintendo64 runs on the MIPS R4300i CPU, so I decided to write code for my fav game. Here I written a small shop asm code:
http://www.youtube.com/watch?v=xhMHcVUr5Yc
I also written a syntax highlighter for Notepad++ so it's even easier: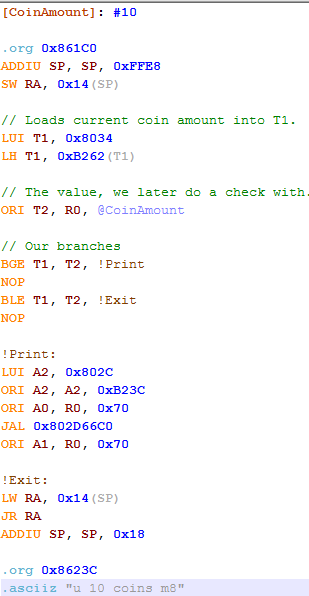 To summarize it:
!name: sets a label
!name in branches or jumps calls a label and calculates the address (each instruction is four bytes long, now do the rest)
[VarName]: #/%/0x/$value // Sets a define/variable and can be used in any immediate instruction calling for values.
@VarName calls the define.
.org tells the assembler where to place the code.
.ascii/.asciiz puts ascii string (.asciiz is zero-terminated, basically puts a 00 byte at the end of the string) into file.
I post some other progress here too soon, if anyone is interested. Assemblers can be fun.